The Monaco Digital Advisory Council gathered at the Principality's Yacht Club on 15 November for a meeting chaired by Prince Albert II.
Led by Country Chief Digital Officer Frédéric Genta, this group of digital experts from around the world, drawn from both the public and private sectors, was established in 2018. Its objective is to contribute to the Principality's strategic vision for digital technology.
A new chapter of prosperity
This year, the key issue on the agenda was: How can digital technology help to open up a new chapter of economic prosperity for Monaco?  The experts discussed progress made in Monaco's digital transition during 2019, which saw more than 30 initiatives introduced. "We have looked at what the world's leading countries in terms of digital development are doing and, above all, we've spent a lot of time thinking about how Monaco, with its own characteristics and strengths, could use digital to promote its development and prosperity," said Marc-André Kamel, partner and director at Bain & Company and a member of the Digital Council, about this second session.
A world-renowned team
Eight prominent members of the Council attended the 2019 meeting, with the majority having also been present last year:
– Vivian BALAKRISHNAN (Twitter): Singaporean Minister of Foreign Affairs in charge of the Smart Nation (guest of honour).
– Nick JENNINGS: Professor of Artificial Intelligence at Imperial College London, who is internationally recognised as an expert in this field.
– Marc-André KAMEL (Twitter / Linkedin): Partner and director of Bain & Company. He heads the Distribution and Luxury practice for Europe, the Middle East and Africa and is a leading member of the Transformation and Customer Strategy and Marketing practices.
– Axelle LEMAIRE (Twitter / Linkedin): Former Secretary of State for Digital Technology in France and a partner in the consulting firm Roland Berger.
– Hani MAHMASSANI (Linkedin): Professor at Northwestern University and considered to be a world expert on mobility.
– Niklas MYHR (Twitter / Linkedin): Professor at Chapman University and considered to be the world expert on social networks.
– Zhang YA-QUIN (Twitter / Linkedin): Former President of Baidu, a Chinese internet company whose search engine is one of the three most visited sites in the world.
– Loïc PLANTEVIN (Twitter / Linkedin): Host for this session (and not a member of the Council). Partner at Bain & Company, he leads the European Healthcare practice and is also a member of the Customer Strategy and Marketing practice.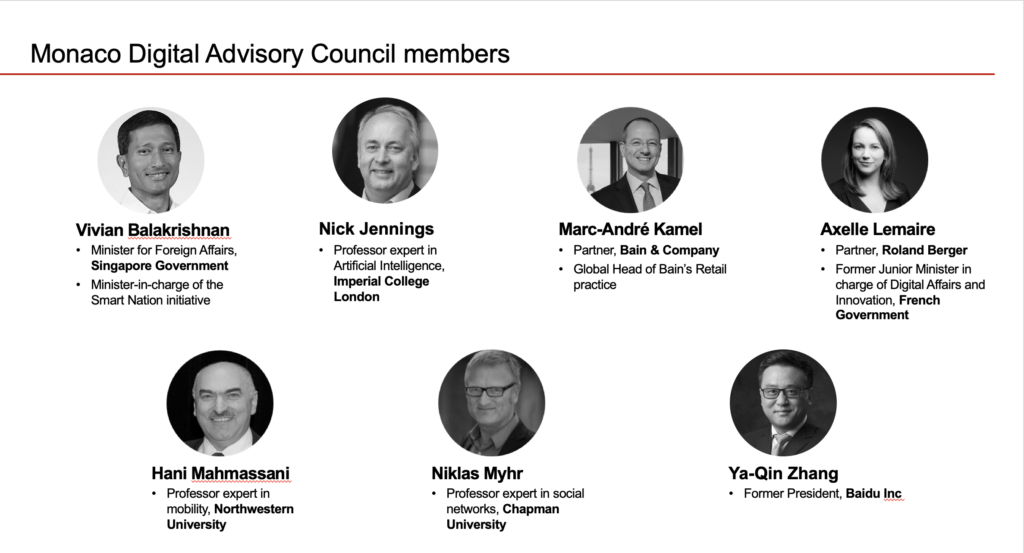 True advisors and "ambassadors"
The role of Council members is to put forward solutions to the main challenges that the Principality faces on digital issues. They offer their networks and businesses in service of the Principality, thereby becoming true ambassadors for the Monegasque digital transition beyond Monaco.